Payroll processing is one of the most crucial and complex operational processes for any organization — be it big or small. The payroll processing team has to gather accurate time and attendance data, manually calculate gross pay while applying all federal, state, and local laws, and ensure that the employees get paid accurately and timely.
Like any other business process, payroll processing also comes with a few inherent challenges. According to Deloitte's Payroll Operations Survey, the top challenges companies face in payroll processing include: (a) Manual processes (23 percent); (b) Accuracy and timeliness of inputs (21 percent); (c) Non-standard or complex processes (17 percent). When not handled properly, these challenges can result in delayed and inaccurate payments, hurting your employees' morale and hitting your company's revenue.
Streamline Payroll Processing with Replicon's Time and Attendance Software
Replicon's Time and Time and Attendance software comes with advanced payroll capabilities that make payroll processing a breeze. Configurable timesheets, advanced business validations, intelligent approval workflows, built-in global payroll library, pay rule engine, and more features are designed to accelerate payroll processing and eliminate human-induced errors. Read on to learn how.
Capture Time and Attendance Accurately
Timesheets are critical for accurate payroll calculation. But truth be told, nobody likes to fill out timesheets. In a perfect world, accurate timesheets get submitted on time for payroll processing. But in the real world, employees scramble on a Friday afternoon, trying to remember how they spent their hours over the week. They could miss accounting for a few hours spent on answering the client's emails and calls. Or they could even completely forget to submit the timesheet, leading to unnecessary correction hassle. Whether intentional or honest mistakes, timesheet errors are frequent and affect payroll processing.
Replicon's configurable timesheets powered by advanced validation rules and notifications ensure timely submission of accurate timesheets. Our flexible timesheets can be configured to meet your global business requirements. Track in-out time punches, breaks, and work durations against every activity for calculating payroll accurately. To reduce time-filling effort, you can simply pre-populate the timesheet based on historical data. Every type of employee — be it exempt, non-exempt, part-time, remote, or contingent — can easily capture their time on their preferred devices: mobile, tablet, or desktop.
Accelerate Approval Process
Once the timesheets are submitted, it goes to team leaders, staff supervisors, or department managers for approval before reaching the payroll team. Also, when employees are working on multiple tasks, jobs, or projects, complex approval rules may need to be followed. For instance, let's assume an employee worked a total of 40 hours over three different projects in a week. The timesheet has to go through each project manager sequentially and each manager has two days for approval. If even one manager rejects the timesheet, it goes back to the employee for correction and comes back to the managers in the same sequence. The timesheet could take at least a week before reaching the payroll team.
Replicon speeds up the approval process with dynamic workflows that meet your global business' needs and ensure compliance with local policies. You can route timesheets to appropriate managers who get notified instantly to take necessary action. Since businesses can set data validation rules that get checked in real time for submitting the timesheet, managers don't have to spend too much time vetting each record. They can easily identify the ones with exceptions and send them for corrections.
Centralize Global Gross Pay
For calculating global gross pay, payroll teams need a deep understanding of the region-specific legislation and pay rules. Manually calculating hours, applying policies, managing compliance, validating data — and checking for exceptions — can set back any payroll team by weeks. Adding to this complexity is pulling data from each local system, identifying the gaps in local needs, and performing those calculations across different regions. Then they must collate all this separate data. These manual processes add administrative overhead and unnecessary double work that results in frustration, errors, delays, and loss of productivity.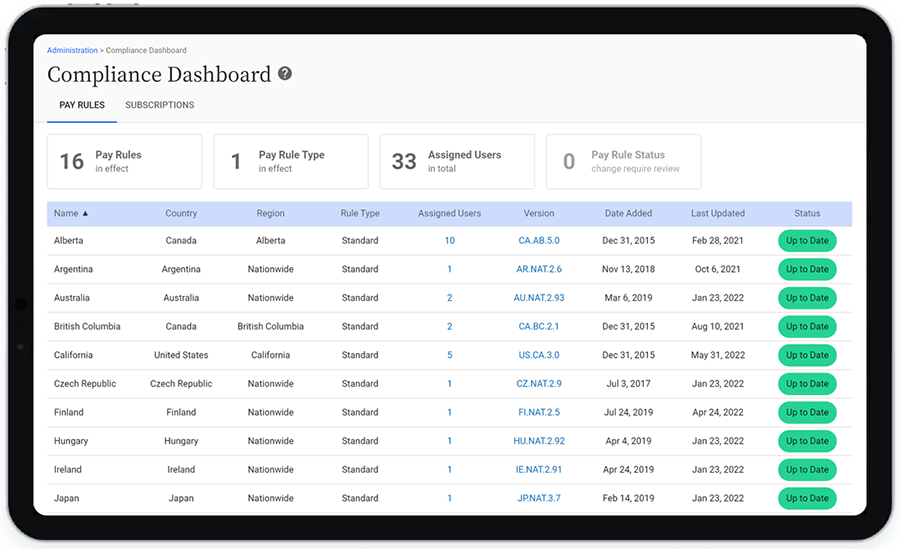 Replicon's time and attendance solution tackle these global payroll problems by providing businesses with global time, labor, and compliance solutions. The global pay rule library equipped with built-in change management capabilities that minimize issues with ongoing labor law updates. The pay rule engine enables managers to model business-specific labor requirements like premiums, union, or collective bargaining agreements right into the platform. This built-in compliance management system can save up to 20 percent of your payroll team's time.
Integrate with Your Payroll Software
If your business uses separate payroll software, it becomes imperative that you integrate your time and attendance solution with your existing payroll system to ensure all information is consistent across every system. Without the tight integration between the two systems, the payroll team has to go through the frustration of having to enter information into various systems multiple times and making corrections repeatedly. The entire process is not only time-consuming but also susceptible to human-induced errors.
Replicon creates a single source of truth for your employees' time data and seamlessly integrates with the payroll system that your business uses to transfer the employee data automatically. The turnkey integrations make it easy to implement, deploy, upgrade, and scale as your teams grow.
Case Study: Hyson Products Minimizes Payroll Processing Time By 90 Percent
Hyson Products is an international aerospace and industrial manufacturing and service provider that manufactures precision springs, stampings, and custom metal products. Every week, a staff member in Hyson Products' busy human resources (HR) department collected completed paper timesheets from up to 100 salaried staff, keyed each timesheet into a spreadsheet, scanned them individually, and then emailed the spreadsheet and timesheets to the company's finance accounting department for payroll processing. The entire process took the payroll coordinator up to 16 hours each week to complete. It was expensive and time-consuming, and fixing the inevitable errors arising from manual data entry was an administrative headache.
Hyson turned to Replicon to solve this business-critical challenge. Replicon's Time and Attendance solution helped them automate the time and attendance tracking among salaried staff — which includes sales, engineering, and customer services teams — for faster, more accurate payroll processing. For example, instead of collecting paper timesheets and manually keying into spreadsheets for calculation, with Replicon the company is able to capture time for the entire pay period on one screen, create approval workflows, and then send data to the payroll department at corporate HQ with just a few clicks.
As a result, Hyson Products decreased payroll errors and reduced payroll processing time from 16 hours per week to 20 minutes per week. If you'd like to read the full case study, click here.
Reduce Payroll Processing Time and Improve Accuracy with Replicon
Replicon's time and attendance solution acts as a unified platform for managing time, payrolls, compliance, and more. Our solution is user-intuitive, modern, and mobile, encouraging faster user adoption and making it easier for businesses to capture time data accurately. Replicon provides payroll/HR teams with the comprehensive functionality that they need to accelerate payroll processing without sacrificing accuracy.