This blog is part of the digital transformation journey of a very Large IT Enterprise and their journey to modernizing their time tracking ecosystem. Check out part 2 and part 3 .
The relentless parade of new technologies is unfolding on many fronts within a large services organization. Business leaders are starting to realize the need for an accelerated approach to keep their organization strategies updated in the face of continually evolving technologies. They also need to ensure that their organization is future-ready and can leverage technologies like AI and ML to improve internal business performance and empower their employees to unlock more efficiency and submit accurate information. 
As we march into the hybrid-digital era, forward-thinking services organizations are looking to holistically integrate powerful IT solutions to develop a robust digital ecosystem to help them thrive. Some emerging technologies truly do have the potential to disrupt the status quo, alter the way employees live and work, and unlock value pools. It is therefore critical that business leaders understand which technologies will matter to them and prepare accordingly. 
Digital transformation has been gaining significant momentum in recent years, but many large services organizations are yet to navigate this new tech landscape. 
According to Aberdeen, there is a rising trend among large services firms to embark on digital transformation for ERP solutions. There is an accelerated shift to the cloud to meet the evolving needs of digital business models. Adoption of cloud capabilities is key to adding new technology or updating outdated systems. 
A Fortune 500 company and large IT Enterprise looked to Replicon to replace its antiquated time tracking systems. Their goal was to digitize their ecosystem and radically transform and change its time tracking processes. With a fragmented ecosystem and multiple legacy systems, they wanted to shift to cloud solutions and begin their digital transformation journey. In this post, we will lay the groundwork for a series following this large IT Enterprise as an illustration of how some Replicon enterprise customers are preparing for and succeeding at the digital transformation of their ecosystem to save on operational costs, become more efficient, and compete more effectively. To start, let's learn more about this large IT Enterprise, in a 3 part blog series, about its business, its approach to its digital transformation, and how it went about unlocking more value from its business. 
The CIO's New Challenge: Transforming the Enterprise
This large IT enterprise is a leading American end-to-end IT services provider and was founded as a merger between two large enterprises. They had over 130k+ employees globally and a highly fragmented ecosystem due to the prior M&A. 
As a part of a strategic initiative, the CIO mandate was to implement an accelerated digital strategy for the business and optimize the interactions with multiple technologies — not just for operational support, but as an enabler for business growth.  
One of the critical challenges faced by the business was a lack of real-time visibility into how their employees spent their time across all their projects. Their time data was spread across 20+ time tracking systems and limited their enterprise reporting capabilities and global view of employee time information. In addition, they had to invest heavily in managing payroll compliance for their global workforce.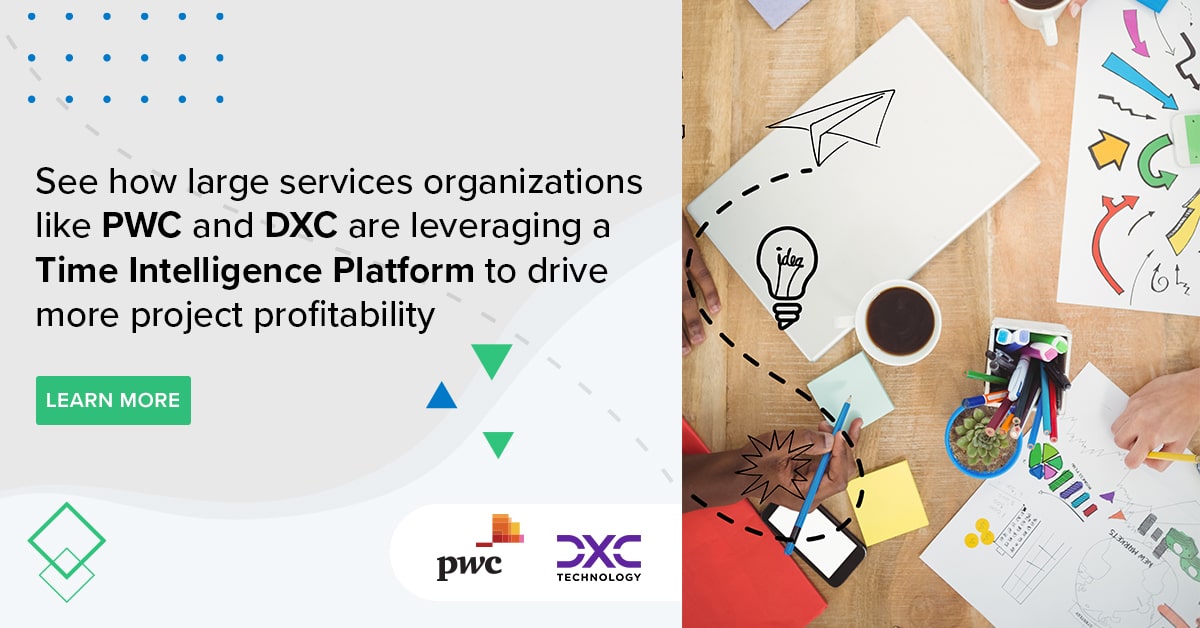 But to embark on this journey and streamline their time tracking systems, the Fortune 500, large IT Enterprise had to plan a holistic digital transformation journey. A vision to achieve one company, one platform initiative for their global time tracking. To execute this vision, they had to tackle their time tracking systems first and unify them into a single global platform. This phase of the digital journey would set the stage and clear the path to implement an ERP standardization program in the future.  
At the outset of 2020, the CIO stated that they wanted to treat time as an enterprise asset. Time tracking across the large enterprise was one of their biggest pain points for their employees and leaders. The systems in place were not user-friendly, caused major headaches to integrate, and they had no real-time visibility into how time was being spent.   
It's clear that this large IT Enterprise had four business problems to solve to accelerate their business growth and be future-ready. 
Reduce the technical debt and unify time tracking into a single global platform 

Streamline billing with accurate project time data

Improved employee experience and enhanced productivity with a modern,

mobile interface

Lower the cost of managing and monitoring payroll compliance
Prioritizing Technical Debt of 20+ Time Tracking Systems
As a large IT enterprise, it wanted to unlock more value and harness intelligence and innovation. The technical debt was becoming a major roadblock to the enterprise's transformation and innovation journey.  
The enterprise had invested heavily in an ecosystem of 20+ time tracking systems, four or more multiple ERPs, and 50+ regional payroll systems that caused data silos. 
They lacked the connectivity to transform all this collected data into a single source of truth for employee time. 
Between multiple legacy systems, homegrown systems, and the inability to get real-time visibility, the organization experienced delayed timesheet approval which impacted their client billing, caused revenue leakages, and obscured project decision-making. All this accumulated technical debt has led to a bigger impact on employee productivity. The enterprise's IT team was drowning in technical debt and had to centralize their time tracking systems to align the technology landscape to their cloud transformation strategy. 
By partnering with Replicon, they have chartered an accelerated path that unifies their global time tracking and significantly simplifies their technology infrastructure.
What's Next?
Amidst the above situation, it became imperative for the large IT enterprise to quickly develop an enterprise-wide digital acceleration strategy to enable sustainable value creation while solving existing challenges. 
The shift to a cloud-based time-tracking platform has unified the time tracking system for their business into a single platform. As a result, the enterprise can leverage modern technologies such as AI and machine learning and unlock value from the existing business while creating new business opportunities. 
Implementing a single platform has dramatically improved the quality of data, better managing billing, and profitability for the global business. Also, the global workforce has gained a modern user interface that can be accessed from any time, anywhere to capture their project time and shift from manual-based time tracking to automated project time tracking. 
Through the course of these series, you will learn about the transformation journey and the CIO approach to transform this large enterprise and unlock value for their business with a global time tracking platform.