Clocking in just got easier with the new Replicon CloudClock. It's an entirely cloud-based time clock that makes it easier for you and your employees to check in for the day, and check out when the day is done. "We had lots of requests for a device," said Lakshmi Raj, co-founder of Replicon. "People don't always have access to a computer, and there was a big need for a device in their [office] location." Replicon is a time and expense software firm that already has a lot of programming to help small businesses keep track of the hours and the expenditures of the employees.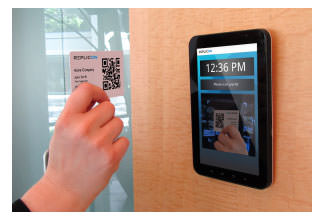 The CloudClock features a large, full-color multi-touch screen with a built-in camera that captures employee punches. It can create a photo audit trail to discourage "buddy punches," in which employees fraudulently punch in for a co-worker. "People have to do more with less," Raj said. "Since this information is real time instead of after the fact, the company can manage itself better" Research from Replicon found that, with its cloud-based solution, compliance for submitting completed employee timesheets increased to 85 percent within three months. Additionally, payroll error rates declined from as high as eight percent to 1.9 percent within one year. "Until now, there wasn't a simple solution to collect this sort of data," Raj said. "This is an automated solution that allows a business to have results, to see who's going to work when and to manage resources." If you think you're business doesn't need to do better job with time and expense management, then think again.
Since 2009, Replicon research has found that the average overtime hours logged has increased more than 58 percent while the average number of hours worked per week has decreased by 14 percent. Those sorts of fluctuations in hours worked merit a technological solution, where traditional solutions could lead to more mistakes and inconsistencies. The Replicon CloudClock syncs up with Replicon's time and expense software, so if your business already uses the software, then implementing the CloudClock will be easy. Unfortunately, the CloudClock only syncs with Replicon's software.
The CloudClock is just $99 per month, per device. This fee includes updates, maintenance, and support. The systems also supports all types of employees, including those with different shifts, hourly and salaried employees, and those with longer or shorter work hours. "It's a hassle-free experience," Raj said. "Simple sign up and forget about. We take care of the rest."