Shared Services Management
Streamline shared services with improved portfolio management and consolidated real-time view across resources, timelines and costs.
Polaris PPM For
Shared Services
The Polaris platform streamlines processes around portfolio tracking and chargebacks to help shared services organizations serve better and grow faster. Our customers experience greater visibility on strategic objectives across the project portfolio, timelines, resources, cost and more.
Manage CapEx & Other Projects

for Proposals
Create multi-level projects, define milestones, and set up relevant information in seconds.
Set estimates and track portfolio status, actuals, & WIP in real-time to manage your business.
Get a centralized view of all your capital projects & associated hours.
Access detailed information about project portfolio hours, costs, and productivity.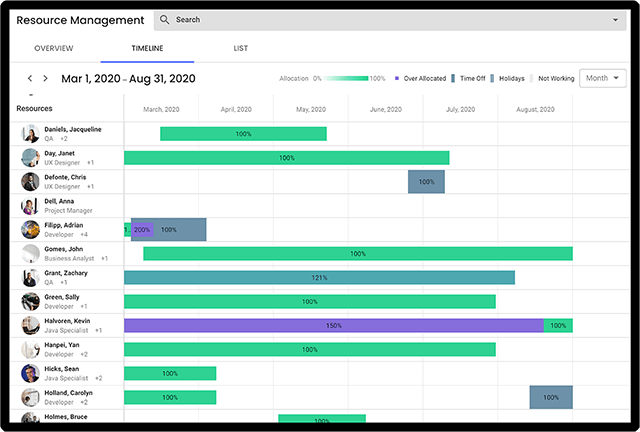 Intelligent Resource Management for
Shared Services Centers
Easily identify under and over allocated resources in your shared services with graphical calendars.
Give your project and portfolio managers up-to-the-minute visibility into resource utilization.
Manage utilization across shared services organizations and units with dynamic charts and graphs.
Leverage SmartMatch, the built-in recommendation engine, to identify ideal resources for any task.
On-time Project Delivery for

Shared Services
Get instant updates from shared services resources on work done, remaining work and estimates through SmartBeats.
Portfolio managers can evaluate for early warnings based on user beats and task beats to take necessary action.
Project managers get an instant understanding of all critical project metrics including hours, cost and other data.
Intelligently prioritize shared services projects with tags around strategy, priority, risks, and more.
Align Project Portfolio to
Shared Services Strategy
Create project portfolios, define portfolio milestones, and set up relevant details in seconds as per shared service needs.
Establish estimates and track all project statuses, actuals, WIP, chargebacks in real-time to manage your portfolio.
Get a centralized view of the entire shared services organization portfolio.
Access detailed information about portfolio hours, costs, chargebacks, and productivity.
Global Portfolio

Governance
Streamline projects, resources, and other processes across your Shared Services portfolio for a consistent view based on your needs.
Define portfolio, create budgets, and directly pull from PM, CRM, ITSM and plan all key project elements.
Leverage the project checklists to enforce process adherence, and make sure global portfolio governance while meeting all local needs for execution.
Improve your business process governance with supporting documentation and improve audit compliance processes.
Accurate Costing and
Streamlined Chargebacks
Easily define and manage chargebacks for all services delivered.
Set chargeback rates at portfolio, project or role level to match business requirements.
Consolidate all chargeback data and share in real-time.
Support all chargebacks with detailed data on hours and costs.
Accurate Time Tracking For
Your Shared Services
Configure project timesheets to capture data as per your Shared Services needs.
Resources can book time off on the timesheet to indicate vacation and unavailability.
Give portfolio managers detailed context and transparency on timesheets with comments and attachments.
Leverage our advanced mobile app with GPS monitoring to empower remote teams.
Business Intelligence for
Shared Services and Business Leaders
Define business metrics across the portfolio and manage your Shared Services performance with ease.
Gain high-level visibility into the organization's strategic objectives across the portfolio with MissionControl.
Manage portfolio projects, resources, and chargebacks in complete transparency with our dynamic dashboards.
Stay on top of portfolio metrics like costs, WIP, utilization, etc. and use them to make proactive decisions.
Integrations For
Your Business
Leverage our pre-built connectors or our web services API to integrate within the business ecosystem.
Seamlessly share portfolio data with other solutions within your business ecosystem.
Connect with ITSM, CRM, HR, PM, accounting, ERP or other proprietary systems using our pre-built connectors and integration services.

Learn more about our products that support your project budgeting & costing use case.