Professional services automation (PSA) is an integrated platform that enables project-based organizations to achieve on-time project delivery, more accurate project estimates, and increased personnel productivity through more efficient scheduling and communication. When you are evaluating PSA solutions for your professional services firm, Mavenlink and Polaris PSA will make it to your top five list.
Polaris is the world's first self-driving PSA that helps services firms like yours uncover revenue and profit opportunities. It empowers professional services leaders with a solution that can do the heavy lifting by analyzing real-time data and delivering live recommendations on the best possible choices to manage project delivery, resource utilization, and profitability. Acknowledging the capabilities of the global, scalable, mobile platform, Software Advice named Polaris PSA as a FrontRunner in the category.
Mavenlink provides an array of tools to manage projects, time tracking, invoicing, resource planning, and business intelligence. It provides purpose-built software to help project managers optimize internal resources, elevate operational performance, and stay up-to-date on timelines, budgets, and projects.
Let's go over the pros and cons of both enterprise PSA solutions so you can make an informed purchase decision based on both user rating and product capabilities.
The Self-Driving PSA Solution That Will Empower Your Enterprise
Get Your Exclusive First Look Now
Polaris vs. Mavenlink: User Rating Comparison
User reviews are perhaps the best tools that prospects can use to understand how flexible a product is to use. It indicates customer satisfaction from real users. Here's a quick comparison of both the products based on user rating.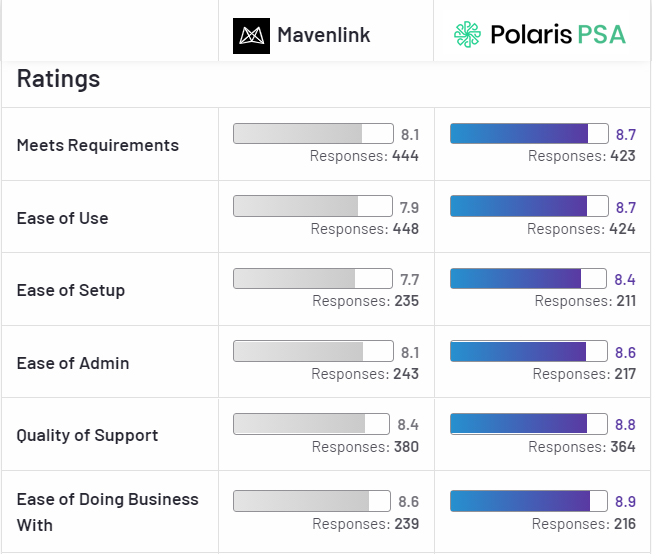 Polaris vs. Mavenlink: Functionality Comparison
A feature-by-feature comparison is not typically the best way to go about evaluating a complex solution like a PSA. Sometimes the solutions you're comparing might have the same feature in different names, leading to confusion. So, comparing the product's capabilities and evaluating the fit is the best way to go about it.
Both Polaris and Mavenlink have powerful capabilities that enable firms to deliver projects on time and within the budget. Here's a comparison of each solution in the following nine capabilities:
Business Intelligence and Analytics
Business leaders need accurate, real-time data to quickly identify whether projects are on track as planned and leverage the data to make strategic decisions.
Mavenlink:
Mavenlink allows business leaders to get contextual insights into work with reports and dashboards. Managers can filter data and use custom templates to extract the data they need to make strategic decisions. Custom dashboards and reports help to forecast revenue and resource availability. But, business intelligence tools are available only for enterprise customers.
Polaris PSA:
MissionControl is a comprehensive dashboard that provides real-time visibility into all the business metrics business leaders need to get work done. MissionControl centralizes resourcing, financials, and project information in one place to enable managers with an up-to-date live view of the business, leading to agile responses and rapidly getting and keeping resources, projects, and finances on track and optimized. Flexible reporting with custom reports and templates keeps stakeholders informed about the project progress. Furthermore, Polaris PSA overcomes Mavenlink's limitation with BI tools by providing an open integration platform. Our platform supports predefined connectors to view the data in Tableau or Microsoft Power BI or to push your data to a data warehouse like Google BigQuery.
Global Governance and Local Administration
Project governance defines a framework for how project decisions are made. It covers all the policies, regulations, functions, processes, and responsibilities.
Mavenlink:
Mavenlink's governance structure is limited to creating reusable templates and workflows for project management. Project templates allow managers to define a common structure for projects that follow a similar execution path. These templates include budget, resource mapping, time, checklists, and tasks.
Polaris PSA:
Advance features in Polaris let firms define frameworks and methodologies for managing projects, resources, and financials. Firms can ensure global project governance while meeting all local needs for execution. Project managers can set up complex work breakdown structures and define key items needed at each stage of the project life cycle to ensure process adherence. The inbuilt workflows and templates make it easy to enforce standard processes across an organization and get everyone on the same page.
Financial Modeling
Before picking up a project, managers want to understand the feasibility and profitability. Financial modeling allows them to simulate cost, price, and margins to bids profitably.
Mavenlink:
Business leaders and managers can use historical data to estimate whether a similar project will be profitable at a certain budget, but the calculation process is mostly manual. Managers can use the data to build project margins and create estimates and proposals. It provides basic billing capabilities along with rate cards and invoicing support.
Polaris PSA:
To optimize services revenue and pricing, Polaris provides a SmartBudget feature that allows project managers to create rate cards for the most profitable bidding scenarios while factoring in true utilization, costs, and real margins. It automatically consolidates all project, non-project, direct, and indirect costs to calculate the most profitable billing rates, thus eliminating administrative overhead and human errors. Furthermore, project managers can simulate profit and revenue scenarios based on the goals for various metrics like utilization, margin, average billing rate, and revenue they want to achieve for the project.
Client Management
Your PSA software should go beyond just storing client information and enable effective communication.
Mavenlink:
Mavenlink supports client contact management to keep track of the contact details for each client, but features are limited. It allows users to store notes for each client, keeping track of all engagements and interactions. It allows firms to categorize projects by client and invoice them accordingly.
Polaris PSA:
Managing clients and projects on the same platform helps to keep all stakeholders on the same page and improve relationships. With Polaris PSA, firms can manage customers, vendors, fund sources, service partners, and internal departments in one place. Custom reports providing visibility into project progress, along with costs and billing information, can be sent regularly to clients. Since all the data is on a single platform, there is no hassle of manually entering information.
Practice Management
Rolling up similar projects into programs/practices helps to manage a variety of professional services practices as a single entity.
Mavenlink:
Mavenlink supports project groups for organization and categorization of projects by client, department, region name, and other criteria. Apart from this, the software does not provide program and practice management capabilities.
Polaris PSA:
Polaris lets managers group and monitor all project metrics related to practices as a single entity. Managers can set up key attributes for every practice, including hours, costs, and billing. Set any attributes and metrics you need. Manage delivery, costs, and billing with complete transparency. Improve practice profits and performance.
Project Management
To complete a project successfully within the set time and budget, managers need real-time visibility into the day-to-day progress of projects.
Mavenlink:
Mavenlink provides basic project management capabilities with workflows and insights. A Gantt chart provides deeper insights into active projects, allowing managers to visually compare scheduled dates with actual progress. One disadvantage with Mavenlink's project management is that being a traditional software, it follows a reactive approach and does not provide an active update on the progress.
Polaris PSA:
Project managers need to track project progress every day to ensure there are no bottlenecks and roadblocks that could throw the project off track. SmartBeats in Polaris takes a proactive approach by harvesting real-time insights into the status of projects and tasks, with ongoing updates to work completed, work to be done, and estimated completion. This gives project managers the ability to give instant feedback to the team member and get an understanding of all critical project metrics, including hours, cost, financials, and other details.
Resource Management
Effective resource planning helps with the smooth execution of projects, setting the stage for on-time and on-budget project delivery.
Mavenlink:
Mavenlink helps to manage resource utilization effectiveness with resource planning capabilities. The Master Planning feature in Mavenlink allows managers to staff projects, plan resourcing strategies, and assign resources to projects based on allocation levels.
Polaris PSA:
Polaris goes one step ahead to provide SmartMatch, an intelligent resource recommendation engine that automatically analyzes resource requests to bring ideal ones for the job to the top. The AI-powered engine parses the global talent pool within seconds to evaluate a resource fit based on availability, skills, location, and more criteria. Since Polaris tracks skills, certificates, and expertise levels, the most recent information is considered for every recommendation. This not only avoids frustrating email exchanges between the project and resource managers but also enables them to forecast requirements to make the necessary hiring and training decisions.
Time & Expense Tracking
Accurate time and expense tracking is crucial for error-free invoicing and getting paid on time for all billable work. Every untracked billable minute is money lost.
Mavenlink:
Mavenlink users can track their time and expenses and tie them to projects. Employees can start tracking their time automatically or manually add time to their timesheets — the capabilities are quite primitive. Managers can track both billable and non-billable hours and expenses at the project or task level. They can approve all time entries from a single screen.
Polaris PSA:
Polaris is built on Replicon's Time Intelligence® platform to enable accurate project time tracking. Configure timesheets capture up-to-the-minute project time for accurate client billing. To make timesheet entries easy and encourage on-time submission, Polaris pre-populates time entries based on historical data and pre-set rules. Firms can track both billable and non-billable hours and assign them to single or multiple clients. The mobile app empowers remote employees and field workers to log time data in real time. Polaris also has advanced capabilities like intelligent timesheets and approvals where the timesheet interactions are reduced to seconds giving real-time project and time data.
Employees can upload expense receipts related to a project for easy reimbursement and client billing. Polaris supports multiple currencies and exchange rates with tax amounts. Businesses can create unlimited expense policies to meet their unique business requirements and track actual expenses against the set budgets.
Financials
Invoicing clients accurately at every milestone and tracking payments in a timely manner is critical for all professional services.
Mavenlink:
Mavenlink provides simple billing functionality. Organizations can invoice clients based on a fixed fee, time, and expenses incurred. Invoices can be sent directly from Mavenlink or the data can be exported to QuickBooks for invoicing.
Polaris PSA:
With flexible bill plans and rates, Polaris PSA helps account for every piece of work done and invoice accurately. Firms can model contract terms into rates and bill plans to meet their business requirements. A clear view of WIP, billed, available-to-bill, and outstanding amounts enables the accounting teams to manage cash flow. The solution also supports revenue recognition standards ASC 606 and IFRS 15. Also, Polaris integrates with popular accounting solutions that companies use.
Experience the Power of Enterprise-ready Polaris PSA
Polaris PSA is an agile, configurable, and scalable platform that meets unique business needs. Our enterprise-ready software is better suited for larger, multi-location project organizations. Our platform makes it easy to deploy the solution across your entire organization. Gain complete control over enterprise-wide projects, resources, costs, and billing with an accurate record of time for your business. We have been a cloud-first platform since inception and have over 25+ years of industry expertise in cloud-based implementations.
Book a live demo to learn more.
The Self-Driving PSA Solution That Will Empower Your Enterprise
Get Your Exclusive First Look Now